Saving biodiversity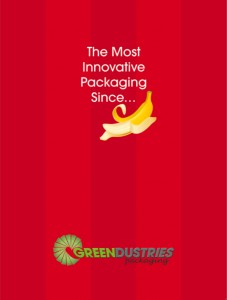 GreenDustries is not just another packaging company. While all packaging companies' business models are business to business enterprises, GreenDustries is the first business to consumer endeavor in the industry. We are all about you the consumer.
GreenDustries environmentally responsible products deliver and allow food to be eaten in an enjoyable, clean, practical manner. Consumers are feeling good that they are contributing to a cleaner planet while eating their favorite foods in a fun clean way for the environment. GreenDustries packaging provide a new and pleasant consumption experience, in a 100% recycled Pleatpak and MagicBag. With the smallest carbon footprint, GreenDustries products are the next generation in packaging.
GreenDustries likes the work of WWF, one of the world's largest and most respected independent conservation organizations. Registered under Swiss law WWF is a global organization acting locally through a network of more than 90 offices in over 40 countries around the world. Among its goals are to save the planet's biodiversity, and reduce humanity's impact on natural habitats. "We are strategically focusing on conserving critical places and critical species that are particularly important for their habitat or for people," the independent organization states on its website.
To stress the need for restraint, for example, WWF states that in 2009, humanity used 40% more resources than nature could regenerate in a year. This problem – using resources faster than they can regenerate and creating waste such as CO2 faster than it can be absorbed – is called ecological overshoot. "We currently maintain this overshoot by liquidating the planet's natural resources. We can cut trees faster than they re-grow, and catch fish at a rate faster than they repopulate. While this can be done for a short while, overshoot ultimately leads to the depletion of resources on which our economy depends," WWF states. "Adding to the pressure is climate change – the full effects and impacts on biodiversity and how life may (or may not) adapt is still very much an unknown quantity."
The loss of biodiversity is, WWF argues, the greatest threat to world stability and
security today. Given this the organization has put forth a biodiversity goal so that, by 2050, the integrity of the most outstanding natural places on Earth is conserved, contributing to a more secure and sustainable future for all.
The organization is focusing its efforts in five areas:
Carbon, Energy & Climate (energy use, impact of forest loss, and the need for a new global policy on climate change)
Farming (food, fibre, grazing, aquaculture, and biofuels)
Fishing (over-fishing, illegal & unregulated fishing, and by catch)
Forestry (timber, paper, pulp, and fuel wood)
Water (dams, irrigation, and drinking supplies)
To reduce humanity's footprint in these areas, we are developing and implementing new ways of growing crops, managing fisheries, forests and wetlands, generating energy, and dealing with waste.
GreenDustries, innovators behind the PleatPak and Magic Bag fast food paper packaging products, applauds WWF's efforts to save and protect the planet. Virtually everything we do affects the environment in some way and, large or small, our footprints are making a mess of the natural habitats that have sustained our ecosystems. We do our part to ensure our footprint is as small as possible by using 100% recycled materials in our products and by adopting good environmental practices in our day-to-day operations. We believe other industries should do the same for a cleaner world. GreenDustries is part of the solution and will not rest until all the other polluting packaging that are been used until now will be replaced with our Pleatpak & MagicBag.
By using our GreenDustries products: we save over 26,000,000 adult trees EACH YEAR, together with saving 95% of the Ecosystems/Biodiversity in some 2,600,000 acres EACH YEAR. When new trees are planted by logging companies, the forest that has now become manmade has lost 95% of its live ecosystem.
Visitors: 41067