Fine-tuning the cosmos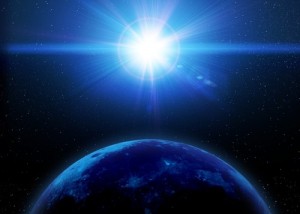 Fine-tuning the cosmos. Throughout enlightened Spirituality sites we found some existential thinking on the formation and existence of the universe and while this has nothing to do with food service packaging, we at GreenDustries feel that understanding the various levels and means of how we came to be provides a necessary foundation to where we're heading.
And it's always nice to pause in our frantic lives and consider the wonderful balance of simplicity and complexity at work in nature.
According to a recent text on Enlightened Spirituality's site: "Various parameters of the universe are exquisitely, astonishingly 'fine-tuned.' Without such fine-tuning, the universe simply would not have flourished these last 13.7 billion years (the best age estimate for the universe).
The initial "boundary conditions" had to be absolutely perfect for a stable universe to come into being, the text continues. Many factors had to be maintained in a perfect balance at various stages over time for the universe to continue its existence. Such fine-tuning and perfect balance has led many cosmologists to conclude that a Super-Intelligence underlies the cosmos.
For example: "The Four Forces of physics happen to have certain necessary strengths and are balanced together in remarkable ways. The electromagnetic force is arbitrarily given a strength of 1. The force of gravity has a strength of only 10-38; the strong force (which holds the atomic nucleus together) has a strength of 1,000 on this scale. And the weak force (responsible for radioactive decay, and for the way in which a neutron can eject an electron and turn itself into a proton) has a strength of 10-10. If any of these 4 forces were just slightly, slightly stronger or weaker than they happen to be, the universe could never have happened. Atoms would not have formed through nucleosynthesis, the delicate biochemistry of life would have been impossible, and so forth."
"Astronomer Fred Hoyle, a longtime atheist who turned into a believer in some kind of super-intelligence after his breakthrough work on the anomalous internal chemistry of stars, has declared it looks as if the laws of physics have been deliberately designed with regard to the consequences they produce inside stars," the blog states. "He has also described the universe, and the carbon and oxygen resonances in particular, as a 'put-up job.' He declares: 'A commonsense interpretation of the facts suggests that a superintellect has monkeyed with physics, as well as chemistry and biology, and that there are no blind forces worth speaking about in nature.' Hoyle also stated, 'I do not believe that any scientist who examined the evidence would fail to draw the inference that the laws of nuclear physics have been deliberately designed with regard to the consequences they produce inside stars."
The point of all this is that, relates space-time expert George Ellis: "The symmetries and delicate balances we observe [throughout the cosmos] require an extraordinary coherence of conditions and cooperation of laws and effects, suggesting that in some sense they have been purposefully designed." A"transcendent Creator at all times maintaining the nature of the physical world so that a chosen set of laws of physics govern its evolution." The conclusion is to argue that
"scientifically, metaphysically and theologically it makes far better sense to speak in terms of the  Superintelligence or Absolute Spirit emanating the universe within ItSelf rather than externally 'designing' or 'creating' the cosmos (like a clockmaker standing separate from his clock)..
We at GreenDustries, understood the delicate balance of not only our universe but our world. This is why we got involved in producing a new packaging for a very polluting industry. Our goal is to push the use of that packaging to stop or reduce significantly the pollution created by fast food, by reducing the level of CO2 in saving trees, reducing the water pollution and reducing waste to landfill.
Visitors: 3816