Collisions of understanding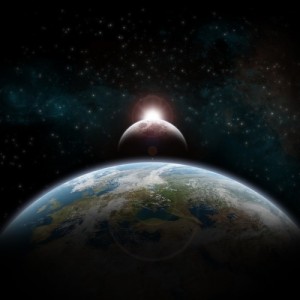 Collisions of understanding. Author and scientist Ken Croswell writes about galaxy collisions in a recent blog on kencroswell.com in which he theorizes that such collisions "seem to be agents of cosmic socialism." A new study, he says, finds that these collisions cause galactic regions rich in oxygen, iron, and even gold to mix with those that are impoverished, thereby making the rich poorer and the poor richer."
"In astronomy, any element heavier than helium is called a metal, so while your chemist friends certainly don't consider oxygen a metal, astronomers do," says Croswell. "These metals are vital for terrestrial planets and life. Not only do we breathe the universe's most abundant one – oxygen – but huge quantities of oxygen are also locked in the silicate rocks beneath our feet. In most large galaxies, oxygen and other metals abound at the center and decline toward the galaxy's edge. That's because most metals are forged by stars, which congregate at the galaxy's core. Our own Milky Way's disk, for example, has a strong metallicity gradient: travel 10,000 light-years away from the galactic center and the iron abundance drops an average of 35 percent. However, theorists have expected that galaxy collisions should disrupt such gradients by mixing metal-poor gas from a galaxy's outskirts with metal-rich gas at its center.
Croswell explains that astronomers Lisa Kewley, David Rupke, and H. Jabran Zahid of the University of Hawaii, Honolulu, and their colleagues have seen this process at work. "They measured the oxygen abundances of star-forming regions in eight large spiral galaxies that resemble the Milky Way but with one key difference: they're all colliding with other large spirals. In all eight, the oxygen gradient is much shallower; that is, the drop in oxygen farther away from the center is lower than in the Milky Way.
"We're surprised that absolutely every single one of them has this flatter gradient," Kewley says. "It's much more widespread than we expected." The study will appear in a future issue of The Astrophysical Journal Letters.
The study, says astronomer Paul Torrey of the Harvard-Smithsonian Center for Astrophysics in Cambridge, Mass., is "a very key contribution morphologically during their interaction." It may also provide a glimpse of what's ahead for our Galaxy: even the Milky Way may go socialist, billions of years from now, if it smashes into the giant spiral in Andromeda.
So if the rich get poorer and the poor get richer, balance is the outcome, right? GreenDustries believes that only by understanding balance can you force a collision of objects to promote better outcomes for everyone concerned. There are lessons to be learned in the colliding of galaxies.
We have to keep the balance of our planet, just like the balance of the universe concern us, in a smaller scale we are one with the universe and our actions here on earth are as important for our well being.
GreenDustries understood this and got involve trying to switch the mentality of a very polluting industry, (the fast food industry) by bringing to the costumer and the industries the choice to use a packaging that will impact greatly our environment for a better, cleaner, earth friendly usage and for the enjoyment in eating our favorite burgers and fries when knowing that we are all involve in keeping that precious balance.
By replacing the majority of the ( sandwich/burger and finger food, paper based only!) disposable packaging used by fast food outlets in North America, Europe and the Pacific Realm by our products, the following are facts about our products positive environmental impact.
We reduce carbon footprint: 3,480,000 Metric tons of CO2,SO2,NOx, Each Year. Carbon dioxide (CO2), Sulphur dioxide (SO2), Nitogen oxides (NOx) and particles, Each year. Representing more than the total of CO2 emissions from cars, in the Netherlands, Belgium and Finland combined, each year. GreenDustries products are the leading environmental food packaging in the market today.
The PleatPak and Magic Bag are the champions of the "3Rs",Reduce, Recycle and Reuse. The PleatPak and Magic Bag use between 40%-80% less raw materials than comparable packaging products in their categories, they are all made from100% recycled materials and uniquely have food certification from the FDA and EU.
Visitors: 11072