Evolution, Creation or both?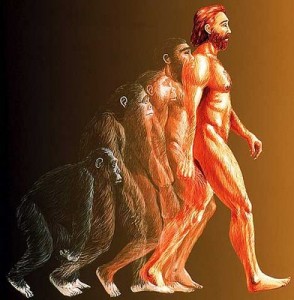 Evolution, Creation or both? Some food for thought, some time it can be funny to see the controversy between evolutionists and creationists many of intelligent people. Why a person that believes in the divine creation of earth and all what on it, cannot see evolution as the 'divine' plan? And on the other hand why an evolutionist would care? Can he bring prove that the evolution is not seeded in a divine plan? It is all the same. One fact we must all agree on as science full support it, is that everything we know started some 14 billion years ago, in what is known as the big bang, and we are all made of 'evolved' star dust.
Darwin's Theory of Evolution is a slow gradual process. Darwin wrote, "…Natural selection acts only by taking advantage of slight successive variations; she can never take a great and sudden leap, but must advance by short and sure, though slow steps"
 The Premise 
Darwin's Theory of Evolution is the widely held notion that all life is related and has descended from a common ancestor: the birds and the bananas, the fishes and the flowers — all related. Darwin's general theory presumes the development of life from non-life and stresses a purely naturalistic (undirected) "descent with modification". That is, complex creatures evolve from more simplistic ancestors naturally over time. In a nutshell, as random genetic mutations occur within an organism's genetic code, the beneficial mutations are preserved because they aid survival — a process known as "natural selection." These beneficial mutations are passed on to the next generation. Over time, beneficial mutations accumulate and the result is an entirely different organism (not just a variation of the original, but an entirely different creature).
Suddenly, an ape like creature got up on his beck lags and walked. Millions of years had passed and 'evolution' shaped the Homo Sapience, and then some six thousand years ago there was the big "download" (you didn't know…) mankind got conciseness. It became 'human', and cultures and religions ware established. The 'human' while thinking exploring and trying to understand couldn't grasp the world around it and reflected his insecurities and fears with wars and destruction. Do we grasp our world any better today?  Keep in mind the world is you, if you're gone; there is no more 'world as far as you are concern. So take care of it while you are here, for yourself.
What GreenDustries, has to do with all this? GreenDustries is a small part of the evolution…We go back only a million years or so, when a cave man after skinning an animal that he hunted to feed himself, took the skin and put on it his few stones and bones, and wrapped it. This was the birth of the 'flat wrap' used until today…made of paper foil of plastic, but same idea…No different is the box, the clamshell. Six thousand years ago, Pharaoh in Egypt had prettier boxes…and it took four thousand years for wine and beer to go from clay anaphora to glass bottles. You see, also in packaging evolution is slow, but certain. For GreenDustries it took only 20 years, a blink of an eye. From the Big Bang, evolving over billions of years true the packaging of nature like egg shell, through the wrap and box ages, GreenDustries invented the PleatPak and the Magic Bag. The most innovative and perfect food packaging for the 21st century, demanded and loved by the consumers, recognized by CNN as the 'greenest' package in the market.
Visitors: 6232