The amazing Nanotechnology.
Nanotechnology could turn out to be the most important technological development for advancing energy technolgies in well over one hundred years. Nanotechnology, which means building technology on the molecular or nano (billionths) scale, has already started to impact solar energy and battery storage technology. Nanotechnology might someday allow for far more powerful, more efficient and less expensive solar and battery storage technology. Nanotechnology is a rather young field, only gaining acceptance in the late 1990s, so the potential for future advancements is very high in coming years.
Over the past few decades, the fields of science and engineering have been seeking to develop new and improved types of energy technologies that have the capability of improving life all over the world. In order to make the next leap forward from the current generation of technology, scientists and engineers have been developing a new field of science called Nanotechnology.
Nanotechnology refers broadly to a field of applied science and technology whose unifying theme is the control of matter on the molecular level in scales smaller than one micrometer, normally 1 to 100 nanometers, and the fabrication of devices within that size range. For scale, a single virus particle is about 100 nanometers in width. In May 2003 a major initiative began to research the role nanotechnology will play in the development of clean, affordable energy, whose supply is sustainable and universally available. This Baker Institute Energy Forum study is in conjunction with the Rice Alliance for Entrepreneurship and Technology, the Center for Nanoscale Science and Technology (CNST) (now called the Richard E. Smalley Institute for Nanoscale Science and Technology), and the Energy & Environmental Systems Institute (EESI).Breakthroughs in nanotechnology open up the possibility of moving beyond our current alternatives for energy supply by introducing technologies that are more efficient, inexpensive, and environmentally sound.
The most dramatic, real and concrete long term benefit in energy research would be if the U.S. science community could deliver a breakthrough fuel system that could both allow society to avoid reliance on volatile Middle East oil supply while at the same time avoiding harmful emissions or other environmental impacts during the energy conversion process. Perhaps the greatest challenge, but most dynamic change toward these goals, would be if nanoscience could render the widespread collection, conversion and transmission of solar energy viable and affordable.
The workshops brought together nanoscientists from around the country, solar, electricity and hydrogen scientists, government policy makers, industry participants from energy companies, solar companies, electricity companies and hydrogen companies, and Rice researchers from the Baker Institute, the Richard E. Smalley Institute for Nanoscale Science and Technology, the Economics Department, the Physics Department and EESI. The goal of the seminars was to gather more data and build a team to create an expanded research program.
Whatever you call it, the use of nanotechnology in the field of medicine could revolutionize the way we detect and treat damage to the human body and disease in the future, and many techniques only imagined a few years ago are making remarkable progress towards becoming realities.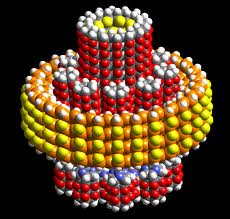 One application of nanotechnology in medicine currently being developed involves employing nanoparticles to deliver drugs, heat, light or other substances to specific types of cells (such as cancer cells). Particles are engineered so that they are attracted to diseased cells, which allows direct treatment of those cells. This technique reduces damage to healthy cells in the body and allows for earlier detection of disease. There are hopes that the use of nanotechnology could help in cancer treatment. This is because the small, specialized functions of some nano devices could be directed more precisely at cancer cells. Current technology damages the healthy cells surrounding cancer cells, as well as destroying the undesirables. With nanotechnology, it is possible that cancer cells could be targeted and destroyed with almost no damage to surrounding healthy tissue.
This is why at GreenDustries we look at Nano technology with lot's of hope for a bright future in Medicine, Science, Energies, Virtual Reality,Nano Computers ect…
This is the last Technology we are going to talk about, it's probably the most amazing one. We as a society should look to the future and see all those wonderful divers technologies witch are been discovered and yet not developed enough for the good of human kind. We should not get stock in the past and get prisoners of what until today was in use for our everyday life.
Nothing stay the same, the Cosmos is in constant movement, so are we ! and everything else around us. let's look forward to a new future full of exiting discoveries. What our grand parents was thinking when the first Light bulb was invented? Or the first train or automobile was rolling? When the first vaccine was injected? We found our self at the same gate. Are we scared or exited?
We at GreenDustries are exited and look forward to witness the greatness of what is waiting for us.
Visitors: 63209