Why care about water?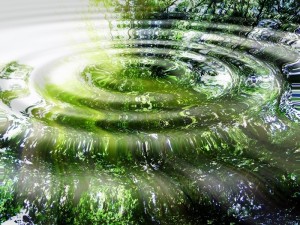 Why care about water? We at GreenDustries believe first and foremost that conservation must benefit people. Without a doubt, our planet's ecological health is inextricably linked to human well-being. We depend on Earth for our sustenance, our livelihoods and our very survival. What we take from it must be taken responsibly so that it will continue to be available to us. We must balance the needs of the environment with the needs of humanity. This is what conservation is all about.
Striking that balance requires the understanding that Earth is under increasing pressure because of us.
Human behaviors that cause habitat destruction and over-consumption of resources serve as sharp reminders that there is much work to be done if we are to preserve the natural bounty of this wondrous planet for generations to come.
The health and abundance of earth species including us humans , is a crucial indicator of the health of freshwater ecosystems. These ecosystems, in turn, play an important role in moderating the location, distribution, and timing of freshwater flows, ensuring that we receive a multitude of benefits and services. (Says CI)
Water is ubiquitous, serving as a common thread connecting all aspects of life.  As the planet's most precious natural resource, its quality and availability are core determinants of individual and community quality of life. While we lack a national water policy, we have a number of national programs that can be better integrated and complimented by a strong grassroots stewardship ethic borne out of an effort to raise public water awareness and civic engagement so as to transform water users into water stewards. As a public good that must be appreciated and managed first as a public resource, protecting our water future will take stewardship from local, regional, state, and federal levels, in addition to promoting individual responsibility. Americans consume 99 gallons of water daily. And one out of six gallons served by U.S. water utilities finds its way back to the ground, leaking out of pipes or otherwise wasted. We protect only 35 percent of the upland areas that secure delivery of freshwater services downstream.
"To achieve water security, CI promotes the conservation of freshwater landscapes from "ridge to reef" through an approach comprising integrated watershed management, protection of upstream natural ecosystems and conservation of downstream habitats and freshwater services."
(CI) Conservation International says:
Agriculture uses a huge amount of water, more than 70 percent of available surface water each year.
Nearly 40 percent of the rivers in the U.S. are too polluted for fishing and swimming.
Nutrient runoff from agriculture has created algal blooms that deplete oxygen from the water and result in dead zones.
Nearly every major river in the world has been dammed, altering natural freshwater flows, cutting off migration routes and depleting fisheries downstream.
We have already lost more than half of our planet's wetlands and an estimated 30 percent of freshwater species.
Sixty-nine percent of river catchments, responsible for the capture and provision of our freshwater supply, remain unprotected — putting more than two-thirds of the source areas of our rivers at risk.
Declines in native species and changes in freshwater food webs have been estimated to exceed US $100 million in lost income revenues.
In the next few decades, more than half of the world's people are expected to live with severe water scarcity.
Every day, the equivalent of ten jumbo jets filled with children is lost to waterborne diarrheal diseases.
Climate change, a growing global population, and increasing demands on water due to higher standards of living threaten to further burden our planet's freshwater systems.
An ever-worsening water crisis demands that we respond with combined water efficiency and ecosystem management solutions to maintain freshwater species and services. Failure is simply not an option — at the current rate, we will degrade the remaining 11 percent of ecosystems that provide us with fresh water services by 2050.
Fresh water plays a complicated role in many of the world's poorest regions. It is the lifeblood of daily activities like drinking, washing and cooking – yet, when mismanaged, it can present unparalleled danger. According to the World Health Association, about 2.6 billion people currently lack access to adequate sanitation – a situation that enables the spread of deadly diseases. E Much of the U.S. West's water supply is under threat as rapidly warming temperatures melt more snowpack annually than is created by precipitation, a new government study suggests.Each spring, melted snow and ice from the Rocky Mountains recharge up to 80 percent of the Columbia, Missouri, and Colorado River Basins.Together, these basins form the primary water source for nearly 70 million people in an area plagued by droughts.
While using GreenDustries's PleatPaks and Magic Bags we will reduce water pollution. Each year 110Billion Litters of water pollution will be prevented each year.The equivalent of the usage of drinkable water by over 12 million French residents, each year. As GreenDustries addresses the complex isues of sustainable paper and forest protection we seek out partnerships with leading ENGOS who can offer us guidance in moving forward. We value and support the independent voice of these ENGO partners.GreenDustries is committed to the more efficient use of natural resources and will help reduce the environmental impact.
Visitors: 15678